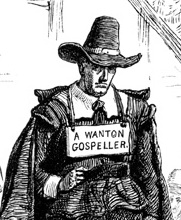 John Sheehan saw the purchase of the bundle as his ticket to independence, but what he bought was more than he bargained for.
Sheehan was born in Cork, Ireland in 1763 to "reputable and honest" parents. He worked as an apprentice for seven years until his brother, who was living in America, wrote to ask Sheehan to join him. Sheehan jumped at the chance, although he failed to inform his parents, his sisters, or his friends that he was leaving Ireland.
Sheehan arrived in Boston on November 11, 1786, but he could not locate his brother. Unable to find work, he enlisted in the American army. After serving four and a half months, an order of Congress led to a general discharge of soldiers, so Sheehan received his pay, found his brother, and stayed with him.
A Chance Meeting
One morning, Sheehan met Edmond Miller carrying a bundle of goods, which included some silver plate. Miller offered to sell the goods to Sheehan at a cheap price. Sheehan figured he could sell the contents of the bundle close to their true value and use the proceeds to support himself as he struck out on his own. He purchased the goods with part of the money he received from his discharge, ate breakfast with his brother and his family, and then set out to find work and sell his newly acquired commodities.
Not long after setting out, Sheehan ran into Miller and another man, Thomas Whitnell, sitting by a stream. Each of them was carrying a bag of goods, and they said that they were traveling to New London. Sheehan, who was heading to Providence, joined them for part of the journey. Whitnell claimed he had an acquaintance in Providence, so he remained with Sheehan when Miller split off from the threesome. As they arrived in the city, Whitnell asked Sheehan not to disclose where he got the items he was going to sell, and Sheehan agreed.
Sheehan took his bundle to a silversmith, and in the course of negotiating a price, the smith noticed that the marks on the plate had been rubbed off. Two justices of the peace were called, and they started questioning Sheehan: How did he get the goods? Where did he come from? Where was he staying, and who was with him? Sheehan's answers landed both him and Whitnell in jail.
Back to Boston
Sheehand and Whitnell were transferred back to Boston, where Sheehan was tried by the Supreme Judicial Court, found guilty of burglary, and condemned to die.
But Sheehan had friends in high places. General Jackson, Sheriff Henderson, and other officers he knew from his time in the army convinced the legislature to create a committee to look into the possibility of pardoning Sheehan. The commission concluded that the legislature did not have a constitutional right to commute a punishment after sentencing. The governor, who did possess the authority to grant pardons, put Sheehan's case before a council, but they did not rule in Sheehan's favor either.
Up until the end, Sheehan maintained that he did not rob the two people who originally owned the goods in his possession. But he did acknowledge that when he purchased the bundle from Miller he assumed that its contents were stolen. At most, Sheehan should have been found guilty of receiving stolen goods. Such a conviction could have ended with the same result, though, since under a 1785 Massachusetts statute receivers of stolen goods were subject to the same punishment as the thief. But since neither Miller nor Whitnell were convicted of burglary, Sheehan most likely would have avoided a death sentence were he charged with his true offense.
Sheehan was executed by hanging on the Boston Common on Thursday, November 22, 1787. In its report on his execution, the Independent Gazetteer noted that "except in the burglary for which he suffered, [he] does not appear, by his life, to have been guilty of any atrocious offences."
Sources
"American Intelligence. Boston, November 26." Independent Gazetteer. December 6, 1787, vol. VII, issue 620, p. 2. Database: America's Historical Newspapers, Readex/Newsbank.
"A Correspondent Gives Us the Following Articles of Intelligence." Independent Chronicle. November 30, 1787, vol. XIX, issue 996, p. 3. Database: America's Historical Newspapers, Readex/Newsbank.
Hirsch, Adam J. "From Pillory to Penitentiary: The Rise of Criminal Incarceration in Early Massachusetts." Michigan Law Review 80:6 (May, 1982), 1179-1269.
Salem Mercury. November 27, 1787, issue 59, p. 3. Database: America's Historical Newspapers, Readex/Newsbank.
Sheehan, John. Life, Last Words and Dying Speech of John Sheehan. Boston: E. Russell, [1787]. Database: Early American Imprints, Series I: Evans (1639-1800), Readex/Newsbank.