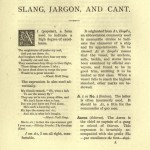 bowsprit
– a nose.
bowsprit in parentheses
– a pulled nose.
From the nose being the front-most part of the face, as the bowsprit is of a ship.
Sources
Barrère, Albert and Charles G. Leland. A Dictionary of Slang, Jargon, and Cant. [London]: The Ballantyne Press, 1889.
Grose, Francis and Egan Pierce. Grose's Classical Dictionary of the Vulgar Tongue. Revised and Corrected. London: Printed for Sherwood, Neely, and Jones, 1823.
Matsell, George W. Vocabulum: Or, the Rogue's Lexicon.. New York: George W. Matsell, 1859.
Note: See "Cant: The Language of the Underworld" to learn more about the background of the American Malefactor's Dictionary.