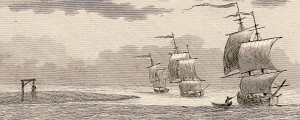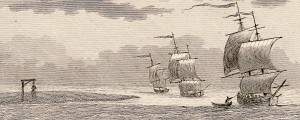 [Editor's note: Guest writer, Peter Dickson, lives in West Sussex, England and has been working with microfilm copies of The Duncan Campbell Papers from the State Library of NSW, Sydney, Australia. The following are some of his analyses of what he has discovered from reading these papers.
Dickson has contributed many transcriptions to the Jamaica Family Search website (now in the hands of University College London) and has also contributed information to UCL's growing database on plantation owners. He says, "I am now retired, hence the time I have on my hands. I am not an academic, nor a historian."]
At the end of May 1773, London merchant Duncan Campbell wrote to merchants Somervell & Noble and their sometime partner Hugh Lennox to advise that he had consigned particular freight on board their brig Hanover Planter: ninety three convicts sentenced in England to transportation overseas. The voyage was heading for Jamaica to collect sugars and mahogany, but now it would first call at Baltimore, Maryland to unload its freight for Mathew Ridley, Campbell's Baltimore agent, who was instructed to "take away the convicts as expeditiously as possible" to leave the owners and Captain McCulloch a free hand. The whole affair was a sudden opportunity that had offered, sandwiched as it was between regular departures of Campbell's own ships. The Thornton had left London with a similar cargo only four weeks earlier, and the Tayloe was due to sail with another batch of convicts in July. From letters written before each voyage, the mechanics of Campbell's transportation business can be teased out.
Campbell's first outlay for the "people" on the Hanover Planter was thirty shillings per head as freight, with £139.10 shillings being the total sum credited to the Somervell & Noble account on his books. As a private convict contractor, the rate he demanded from the various sentencing courts for transportation was £5 per head, subject to a contract and to bonds being given to him. He was paid when copy of the court order for each convict, together with a bill of loading, could be certified. The difference between the £465 he would have been paid by the authorities for this shipment and the amount he credited to Somerville & Noble equates to seventy percent. If freight was his only cost here, the profit on it would have been immense, but he had also provisioned the vessel with water and victuals for the voyage. His own ships habitually stopped briefly at Gravesend, Kent, on their way out to sea down the River Thames. Here, slop seller James Base supplied new slop clothing in order to dress convicts on arrival in their new guise as "servants." Even though there are no letters to confirm that Hanover Planter stopped at Gravesend on this occasion, it is more likely than not that it did.
Campbell's usual outlay on freight, provisioning, and new clothing may have left him with little change from the £5 per head he charged for transport, but the real profit was made if presentable, healthy servants could be produced on arrival, a point which local newspaper notices of sale were keen to state, if only to conform to local laws.
Convicts to Maryland: Sales
In July 1767, the ship Thornton, owned by London merchants "Stewart & Campbell," lay in the Ferry Branch of the Patapsco River at Baltimore. On board were one hundred and fifty two convicts sentenced in England to transportation overseas and now ready to be sold as "seven years servants." The ship's master, Christopher Reed, and its surgeon, John Campbell, had testified to the Naval Officer for the port of Annapolis that the convicts were free from any "dangerous distempers." The presence of a surgeon during the voyage signified the value of a cargo by which the ship's owners could profit handsomely. Since a head bounty for transportation, paid by the government authorities at the time, usually covered costs of freight, victualling, and perhaps new clothing, the money generated by the sale of convicts in America were clear profit. An average on-ship sale price on arrival of, say, £12 each, would gain Stewart & Campbell upwards of £1,800, while the return trip would add charges for freight on tobacco and commission on its sale in London to overall earnings. But if there was money to be made by the ship's owners, there was also profit in store for local enterprise.
            A sale on board the Thornton was advertised in the Maryland Gazette by one Alexander Stewart, who also assured prospective buyers that "proper boats well manned" would be on hand to ferry them from and to the shore. It is unclear whether Stewart was acting as a commission agent for the consigners, or whether he was an independent middle man who had already bought the whole shipment and had the opportunity to sell as many as possible on board before finding buyers for the remainder around the countryside. Four years later, Alexander Stewart—a namesake from Staunton, Virginia—had given bonds for the purchase of an entire cargo of convicts from Thomas Hodge, the Stewart & Campbell agent in Virginia. Coincidentally, the number of convicts on this occasion was the same. A surviving account book by Alexander Stewart details the sale of eighty four of these people who were hawked around seven counties in northern Virginia, which realized a total of £1,865 over the course of three months. While prices for this batch of forty-seven men, twenty one women and sixteen boys ranged from only £5 for "a woman" to £30 for "a cooper's boy," the average per head was just over £22.4. If this average is applied to the remaining sixty three of the whole lot (four had died and one ran away since landing), Stewart would have realized a total figure of some £3,200. A large profit margin was thus available to dealers in America prepared to take a chance, "on the road" costs for a dwindling number taken on country trails notwithstanding.
After Duncan Campbell took on the business alone following John Stewart's death in 1772, four ships were making annual voyages by 1775. At the end of that year, both individuals and dealers owed Campbell at least £10,000 for convict purchases over the previous three years.
Convict transportation: Duncan Campbell Letters, A Selection
To Evan Nepean [Under Secretary of State for Home Affairs, 1782-1791]
29 January, 1787
It cost me some time to find out a paper which would enable me to answer your letter effectually & which I have this moment laid my hand on, which caused my delay in answering yours sooner. It happens by a calculation I made for the information of the House of Commons some years since that upon an Average of Seven Years viz. from 1769 to 1775 both inclusive I transported 547 convicts Annually from London, Middlesex,Bucks. & the four countiesof the Home Circuit & that 117 of those transports were women. I always looked upon the numberfrom theother partsof the kingdom to be equal to what was transported by me. With Great Regard
Notes:
Bucks is the county of Buckinghamshire. There were six Assize Court Circuits in England and four in Wales. The Home Circuit usually comprised the counties of Hertfordshire, Essex, Kent, Surrey and Sussex.
At the time of writing, Evan Nepean was involved in the preparation of ships and people for the first fleet taking convicts to Australia; it left four months later.
* * *
To James Base [Slop seller at Gravesend]
14 July 1775
Underneath I send you a list of sundry slops which I desire you will have ready by Thursday 20thInst. by which time my ship the Salt Spring, Capt. Ogilvy will be at Gravesend.
5 doz. Canvas frocks
5 doz. Trusers
3 doz. Milled Capes
24 Stript [striped] Cotton Waistcoats
24 Dowlas Shifts
12 Petticoats
4 gowns
6 Linen Handkfs.
You may have a few more Shifts & Petticoats ready in case they should be wanted.
Notes:
Most convicts were embarked at Blackwall, on the east side of the Isle of Dogs, from where Campbell's ships moved downriver towards the sea, stopping briefly at Gravesend to collect new slop clothing, and where any prisoners from the gaol at Maidstone, Kent, would also be taken aboard. This order to James Base was for the very last convict shipment by Campbell to the Chesapeake. Salt Spring arrived in early October with one hundred and twenty people.
* * *
To Mr John Mason, Sandwich [Clerk of the Peace]
6 Dec. 1773
This day I received your favour of yesterday's date. I have a ship which will be ready to sail middle of next week and by her I send the convicts now in Maidstone gaol under sentence of transportation. I think the surest way would be for you to send the two people you mention there about the 14 or 15 current and put them under the care of the keeper who will have regular notice from me when to bring them and his own prisoners to Gravesend. The terms I take them upon is £5 each, and if you are at any loss in forming the necessary Bonds and Contracts, I beg leave to recommend your applying to Mr Jerome Knap who is the Clerk to Assizes of the Home Circuit. I am…
Notes: 
The ship on this occasion was the Justitia. Nine days after this letter, Campbell wrote the Keeper of Maidstone gaol to bring the prisoners up to Gravesend. He was particular to add the postscript, "You will not forget to bring with you the Orders of Court."