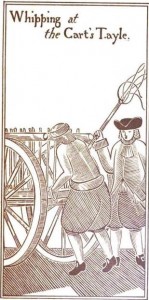 Murder and Mayhem in Essex County
by Robert Wilhelm (Charleston, SC: The History Press, 2011), 128 pp.
Robert Wilhelm has earned a reputation for writing compelling accounts of 19th-century murders on his blog, Murder by Gaslight. He has more recently taken on a new project, The National Night Stick, which chronicles the oddities and outrageous behavior of 19th-century society. Now, in his new book, Murder and Mayhem in Essex County
, Wilhelm adds stories of 17th- and 18th-century crime to his repertoire.
Wilhelm opens his book with a murder mystery that took place during the early settlement of Essex County, Massachusetts. In 1636, a Native American from the Agawam tribe discovered the dead body of a young white woman lying in a swamp not far from the Merrimack River. The woman turned out to be Mary Sholy, a servant who several months earlier had left Newbury, MA to go back home to her family in what is now Portsmouth, NH. Suspicion immediately fell on her guide, William Schooler, but proving he was responsible for her murder was not easy.
As Wilhelm moves chronologically from crime to crime, the reader meets a young John Adams, who defended a woman whom many believed poisoned her daughter-in-law; Pomp, an African slave who was prone to bouts of delusion and erratic behavior; and Daniel Webster, the renowned attorney, orator, and Senator, who unusually served as a prosecutor in a high-profile murder trial. Wilhelm also recounts stories involving hidden pirate treasure, attacks by and against local Native American tribes, and, of course, witches—and not just the ones from Salem.
Not surprisingly, Wilhelm is at his best when he turns to 19th-century crimes, where he expertly outlines the complicated relationships among the actors involved in cases of arson, murder, and mystery. He never rushes to judgment against the accused, and he carefully explains the challenges that prosecutors faced in the absence of DNA tests and other technological advances in detecting crime.
The audience for Murder and Mayhem in Essex County
is by no means limited to those who live in and around Essex County, even though specific places and buildings at times figure prominently in these criminal tales. Indeed, the intriguing personalities of the people involved in these crimes, and the importance of the area to early America, make the book a must-read for anyone interested in the dark side of New England history.