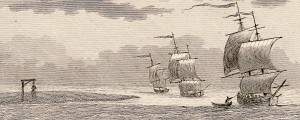 Note: This post is part of a series on Convict Transportation to the American colonies.
After passage of the Transportation Act in 1718, the British government faced the problem of administering the transportation of convicts overseas. The House of Lords resisted acting on the proposal of William Thomson, the main author of the Transportation Act, to sign official government contracts with private merchants for the shipping of convicts. As a result, each province had to make arrangements for transporting its own convicted felons. Without a standard mechanism in place for carrying out this new form of punishment, the London jails quickly filled up by the summer with convicts awaiting transportation.
In the midst of this crisis, Thomson made a formal recommendation to the Treasury that a tobacco and slave merchant, Jonathan Forward, be granted an exclusive government contract to oversee convict transportation. Forward was perfectly qualified for the job. He commanded a small fleet of ships that made regular trips to London, Africa, and the southern American colonies as part of his trade in tobacco and slaves, giving him the ideal experience and overseas connections necessary to transport convicts to the colonies.
Earlier in the summer, Forward had transported about 40 convicts to Maryland, charging the government nothing and taking profit only from the sale of the convicts oversees. Forward shrewdly used this initial voyage to help lure the government into signing a lucrative long-term contract with him. He also probably learned about the Treasury's earlier arrangement with Francis March, who was paid a set price for each felon he transported, because Forward now insisted that the government pay him ₤3 per head to transport felons from England and ₤5 for those from Ireland and Wales. He argued that death, sickness, and other accidents cut into his potential profit, and so he needed extra funds from the government to cover his expenses.
On July 9, Thomson testified that Forward's proposed contract was a bargain, because no one else would transport the convicts as cheaply. At last, the Treasury accepted Thomson's arguments, and on August 8, 1718, Forward was appointed to be the first "Contractor for Transports to the Government." Forward held on to this position, which essentially granted him a monopoly on the convict trade, until 1739. In this role, Forward became one of the most important figures in criminal punishment, and he set precedents for the North American convict trade that would last until the practice ended later in the century.
Resources for this article:
Beattie, J. M. Policing and Punishment in London, 1660-1750: Urban Crime and the Limits of Terror. New York: Oxford University Press, 2001.
Coldham, Peter Wilson. . Emigrants in Chains: A Social History of Forced Emigration to the Americas of Felons, Destitute Children, Political and Religious Non-conformists, Vagabonds, Beggars and Other Undesirables, 1607-1776. Baltimore, Md.: Genealogical Pub. Co., 1992.
Ekirch, A. Roger. Bound for America: The Transportation of British Convicts to the Colonies, 1718-1775. New York: Oxford University Press, 1987.
Smith, Abbot Emerson. Colonists in Bondage : White Servitude and Convict Labor in America, 1607-1776. The Norton Library. New York: Norton, 1971.
Learn More About Convict Transportation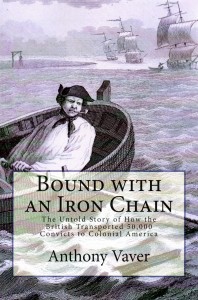 Learn more about convict transportation to colonial America by reading my book, Bound with an Iron Chain: The Untold Story of How the British Transported 50,000 Convicts to Colonial America.
Amazon.com: Paperback ($16.99) and Kindle ($4.99).
Smashwords: All e-book formats ($4.99).
Most people know that England shipped thousands of convicts to Australia, but few are aware that colonial America was the original destination for Britain's unwanted criminals. In the 18th century, thousands of British convicts were separated from their families, chained together in the hold of a ship, and carried off to America, sometimes for the theft of a mere handkerchief.
What happened to these convicts once they arrived in America? Did they prosper in an environment of unlimited opportunity, or were they ostracized by the other colonists? Anthony Vaver tells the stories of the petty thieves and professional criminals who were punished by being sent across the ocean to work on plantations. In bringing to life this forgotten chapter in American history, he challenges the way we think about immigration to early America.
The book also includes an appendix with helpful tips for researching individual convicts who were transported to America.
Visit Pickpocket Publishing for more details.