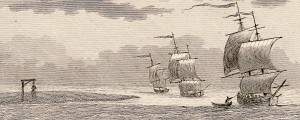 Note: This post is part of a series on Convict Transportation to the American colonies.
Before passage of the Transportation Act of 1718, the British government conducted an experiment by contracting out the transportation of some of its convicts to a West Indies merchant, Francis March. On December 7, 1716, March received a government contract to transfer convicts to the colonies at 40 shillings per head to cover freighting costs, with the Treasury supplying one pair of iron handcuffs and one pair of feet irons for every felon.
Shortly thereafter, on December 16, March took control of 54 felons who had been pardoned on condition that they serve 8 years on plantations overseas, and he set sail for Jamaica. The Treasury not only paid March ₤108 for his service, but it also paid William Pitt, Esq., the Keeper of Newgate Prison, ₤170.1.3 for the cost of "passing a Pardon," removing the irons from the convicts, and conveying the felons to the ship. Pitt's itemized expenses included the following:
₤4.1.0. for bread, beef, beer, brandy, cheese, etc. sent with 30 of the prisoners and their guard.
₤0.10.0. given to those prisoners who were almost naked.
₤32.8.0. for 54 hand and feet irons @ 12s. a head.
₤36.0.0. fees to the Clerk of the Peace for 54 persons @ 13s.4d. each.
₤40.1.0. fees to the Keeper @ 14s.10d. each.
₤10.15.0. for my own trouble and attendance four days in passing the pardon and 2 days and 2 nights in passing the prisoners. (Quoted in Coldham, Emigrants in Chains.)
Later, on September 1, 1718, the Governor of Jamaica wrote a letter to the Lordships of Trade and Plantations to report on the fates of the transported felons. He claimed that almost all of the convicts sent to his colony continued their evil ways. Most of them had either joined pirates or had left the island for Spanish Cuba along with several runaway African slaves. Those who remained, the Governor continued, were "wicked, lazy, and indolent."
This brief experiment with convict transportation would have long-term repercussions for how the business of transporting convicts would develop, and it would prove more costly to the British government than the ₤278 it shelled out to remove these 54 convicts from the country's borders.
Resources for this article:
—. Emigrants in Chains: A Social History of Forced Emigration to the Americas of Felons, Destitute Children, Political and Religious Non-conformists, Vagabonds, Beggars and Other Undesirables, 1607-1776. Baltimore, Md.: Genealogical Pub. Co., 1992.
Smith, Abbot Emerson. Colonists in Bondage : White Servitude and Convict Labor in America, 1607-1776. The Norton Library; N592. New York: Norton, 1971.
—. "The Transportation of Convicts to the American Colonies in the Seventeenth Century." The American Historical Review 39.2 (1934): 232-49.
Learn More About Convict Transportation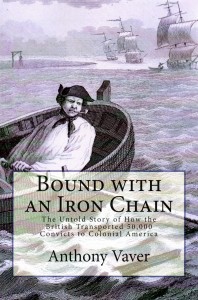 Learn more about convict transportation to colonial America by reading my book, Bound with an Iron Chain: The Untold Story of How the British Transported 50,000 Convicts to Colonial America.
Amazon.com: Paperback ($16.99) and Kindle ($4.99).
Smashwords: All e-book formats ($4.99).
Most people know that England shipped thousands of convicts to Australia, but few are aware that colonial America was the original destination for Britain's unwanted criminals. In the 18th century, thousands of British convicts were separated from their families, chained together in the hold of a ship, and carried off to America, sometimes for the theft of a mere handkerchief.
What happened to these convicts once they arrived in America? Did they prosper in an environment of unlimited opportunity, or were they ostracized by the other colonists? Anthony Vaver tells the stories of the petty thieves and professional criminals who were punished by being sent across the ocean to work on plantations. In bringing to life this forgotten chapter in American history, he challenges the way we think about immigration to early America.
The book also includes an appendix with helpful tips for researching individual convicts who were transported to America.
Visit Pickpocket Publishing for more details.