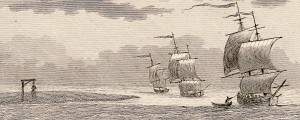 Note: This post is part of a series on Convict Transportation to the American colonies.
Samuel Ellard grew up in Spitalfields and was apprenticed to a butcher. He completed his time as an apprentice and worked in the Spitalfields Market for various people until he was arrested on March 9, 1741 for robbing a cheese shop owned by William Shipman. The night of the robbery, Ellard went behind the counter of Shipman's shop and pulled out 18 shillings and 9 pence from the till, but he was spotted by a neighbor who cried out, "Stop Thief! Shipman!" Upon hearing the cries, Shipman managed to seize Ellard, who put up a great struggle, but another neighbor came to his Shipman's aid, and the two dragged Ellard to the magistrate.
Shipman and the two neighbors, Elizabeth Holmes and John King, testified against Ellard at his trial, and Ellard was found guilty and sentenced to transportation. He later claimed that he was "in Liquor, and did it at the Instigation of a young Fellow a Sailor who was going to Sea."
Early Trouble
Ellard had run into trouble before. He was accused of theft in May 1736 along with Christopher Freeman. Freeman had grabbed a large quantity of linen items that Elizabeth Exton had been hired to wash. A neighbor heard Exton's cries when she had realized that her laundry had been taken and assisted her in grabbing hold of Freeman. Ellard then appeared and encouraged Freeman in his struggle with the neighbor by shouting, "Strike him, punch him in the Guts." Just as another neighbor arrived to help, Freeman managed to hand the bundle to Ellard, who proceeded to run away. Ellard was quickly caught, though, and brought to the constable. Freeman somehow managed to escape, but he was captured a couple days later.
At the trial, Ellard claimed that Freeman simply handed him the bundle during the ruckus and that he never tried to run away. He also arranged to have several people testify that he was at the Butchers-Arms while the robbery was taking place, and he produced a number of other witnesses to speak to his character. Consequently, Ellard was acquitted. Freeman, on the other hand, only managed to call one person to speak to his character, but this witness could not give a good account of him. Freeman was found guilty and sentenced to death.
Transportation to America
After Ellard was found guilty of robbing the cheese shop, he was transported to Maryland along with 21 other convicts in May 1741. He later claimed that he was then sold to a planter who treated him cruelly and was known to have whipped seven men to death. At the first opportunity, Ellard filled his pockets with food and ran away. He traveled 300 miles through the woods, covering twenty to thirty miles per day. At one point, he caught a squirrel and lived on it for 3 days. Several times he was caught and held as a runaway, even though he claimed that he had served out his time as a convict servant. When no one came forward to claim him while he was being held, he was let go, and he continued on in his journey.
Eventually, Ellard reached Philadelphia and then went to New York, where he found a job working on a ship. After six months he returned to Philadelphia and purchased passage back to London. After returning to England, he worked as a porter, carrying fruit for the vendors at Fleet Market. He worked for two years in this capacity, but he was suddenly taken early one morning and sent to Newgate Prison as a returned convict.
On Trial
At his trial for returning from transportation, the two people who gave evidence against Ellard for robbing the cheese shop, Elizabeth Holmes and John King, showed up in court to testify against him. Curiously, neither one could positively identify Ellard. King said that Ellard had a fairer complexion than when he last saw him, but when he was asked whether the prisoner had one eye back then, as was the case now, the witness said yes, he believed he did.
Going against what he later told the Ordinary of Newgate about being sold to a cruel planter, Ellard said at his trial that he worked as a butcher in America and that he lived very well, but that he "could not be easy till he returned to his native country."
Ellard was found guilty of returning early from transportation and was executed on November 7, 1744 at the age of about 30. He left behind a pregnant wife, whom he had married eight months before his arrest. She frequently visited him in prison and wept bitterly up until his death.
Resources for this article:
The Ordinary of Newgate, His Account of the Behaviour, Confession, and Dying Words, of the Malefactors Who Were Executed at Tyburn, on Wednesday the 7th of November, 1744. London: John Applebee, 1744. Database: Eighteenth Century Collections Online, Gale.
Old Bailey Proceedings Online. (www.oldbaileyonline.org, 5 August 2009) May 1736, trial of Christopher Freeman and Samuel Ellard (t17360505-60).
Old Bailey Proceedings Online. (www.oldbaileyonline.org, 5 August 2009) October 1744, trial of Samuel Ellard (t17441017-29).
Learn More About Convict Transportation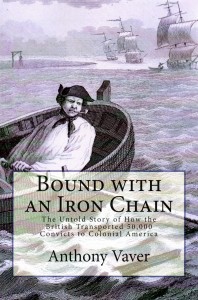 Learn more about convict transportation to colonial America by reading my book, Bound with an Iron Chain: The Untold Story of How the British Transported 50,000 Convicts to Colonial America.
Amazon.com: Paperback ($16.99) and Kindle ($4.99).
Smashwords: All e-book formats ($4.99).
Most people know that England shipped thousands of convicts to Australia, but few are aware that colonial America was the original destination for Britain's unwanted criminals. In the 18th century, thousands of British convicts were separated from their families, chained together in the hold of a ship, and carried off to America, sometimes for the theft of a mere handkerchief.
What happened to these convicts once they arrived in America? Did they prosper in an environment of unlimited opportunity, or were they ostracized by the other colonists? Anthony Vaver tells the stories of the petty thieves and professional criminals who were punished by being sent across the ocean to work on plantations. In bringing to life this forgotten chapter in American history, he challenges the way we think about immigration to early America.
The book also includes an appendix with helpful tips for researching individual convicts who were transported to America.
Visit Pickpocket Publishing for more details.