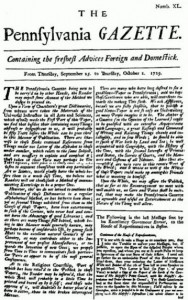 Some notable crime-related blog articles have appeared over the last week or so.
Ben Ruset of the NJPineBarrens has written a fascinating article on Captain John Bacon, a notorious outlaw who took advantage of the American Revolutionary War to commit robbery and burglary in the New Jersey Pine Barrens.
ExecutedToday.com notes the execution of Thomas Bird–who in 1790 was the first person to be federally executed under the U.S. Constitution–by interviewing Jerry Genesio, author of Portland Neck: The Hanging of Thomas Bird
.
Robert Wilhelm of MurderByGaslight.com recounts the gruesome murder of John Flanders in 1873.
April Moore of folsom's 93: The Lives and Crimes of Folsom Prison's First and Only Executed Men has just completed a four-part series on the overpopulation of prisons, which can be found on the website's blog. And DelanceyPlace.com has posted a related article called "The Monster Factory," which questions the deterrent effect of today's prisons with some eye-opening statistics.