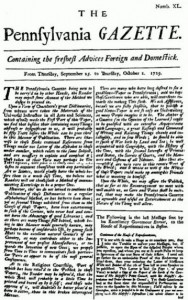 When I speak at libraries, historical societies, and other groups about early American crime, I am often asked where and how I find information about these historical criminals.
The short answer is that I generally use a combination of databases that are freely available on the Web and subscription databases that I access through local libraries. I also use a handful of print resources. Regular readers of this blog probably know this information already, because I always include a list of the sources I consulted during my research at the end of each article.
But if you are interested in gaining even greater insight into how I approach my research, you can read an article I wrote that just appeared in the November 2012 edition of the Readex Report entitled, "Digging Up Crime Stories from America's Past: Tips and Technique from a Librarian-Scholar."
The Readex Report is the official newsletter of Readex/Newsbank, the company that publishes two important subscription databases for my research, America's Historical Imprints and America's Historical Newspapers. History buffs might also enjoy the other articles in the newsletter, which include a story about a late nineteenth-century African-American cycling champion and another one about the first Egyptian mummy to be commercially displayed in America.