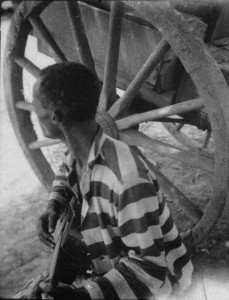 My brother-in-law recently created a CD-mix of songs about jails, prisons, and crime for me. I enjoyed listening to it so much that I thought I would reproduce it for Early American Crime.
"In The Jail House Now" – Soggy Bottom Boys
"Jailhouse Rock" – Elvis Presley (See the video from Last.fm.)
"I Shot the Sheriff" – Bob Marley
"Folsom Prison Blues" – Johnny Cash
"I Fought the Law" – The Clash
"Hurricane" – Bob Dylan
"I'm Just Here to Get My Baby Out of Jail (Live)" – Jerry Garcia Acoustic Band
"Big Railroad Blues" – The Grateful Dead
"Jailhouse Blues" – Lightnin' Hopkins
"Sing Sing Prison Blues" – Bessie Smith
"Jailbreak" – AC/DC
"Halloway Jail" – The Kinks
Do you have any favorite songs about jails, prisons, or crime? Share them in the Comments!