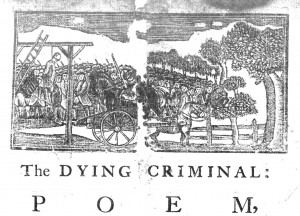 In September 1766, Richard Hodges and John Newingham Clark were convicted by the Superior Court in Boston of breaking into a shop and stealing fifty pounds worth of goods. As punishment, they were each fined twenty pounds, ordered to pay triple damages, imprisoned for six months, and bound for good behavior for twelve months.
After their release from prison, it was not long before they were back in court. In April 1767, the two were tried and found guilty along with Magnus Mode of "Forging and making of Pewter and other mixed Metals sundry Pieces of false and counterfeit Money to the Likeness and Similitude of Spanish milled Dollars, Quarters of Dollars, and Pistareens."
As punishment, each of them were ordered to stand in the pillory for one hour, to have one of their ears cropped, to be whipped 20 times on their naked back, and to spend one year at hard labor at the house of correction. Presumably, Hodges and Clark also lost their bondage for good behavior from their last transgression.
The three counterfeiters stood in the pillory in Charlestown, Boston on April 30, 1767. The following poetic broadside was published and sold at the event, and if the spectators did not already know what to expect from the spectacle, the poem provides some guidance.

A few LINES on
Magnus Mode, Richard Hodges & J. Newington Clark.
Who are Sentenc'd to stand one Hour in the
Pillory at Charlestown;
To have one of their EARS cut off, and to be Whipped 20 Stripes at the public Whipping Post, for making and passing Counterfeit DOLLARS, &c.

BEHOLD the villains rais'd on high!
(The Post they've got attracts the eye:)
Both Jews and Gentiles all appear
To see them stand exalted here;
Both rich and poor, both young and old,
The dirty slut, the common scold:
What multitudes do them surround,
Many as bad as can be found.
And to encrease their sad disgrace
Throw rotten eggs into their face,
And pelt them fore with dirt and stones,
Nay, if they could wou'd break their bones.
Their malice to such height arise,
Who knows but they'll put out their eyes:
But pray consider what you do
While thus expos'd to public view.
Justice has often done its part,
And made the guilty rebels smart;
But they went on did still rebel,
And seem'd to storm the gates of hell.
To no good counsel would they hear;
But now each one must loose an EAR,
And they although against their will
Are forc'd to chew this bitter pill;
And this day brings the villains hence
To suffer for their late offense;
They on th' Pillory stand in view:
A warning sirs to me and you!
The drunkards song, the harlots scorn,
Reproach of some as yet unborn.
But now the Post they're forc'd to hug,
But loath to take that nauseous drug
Which brings the blood from out their veins
And marks their back with purple stains.
From their disgrace, now warning take,
And never do your ruin make
By stealing, or unlawful ways;
(If you would live out all your days)
But keep secure from Theft and Pride;
Strive to have virtue on your side.
Despise the harlot's flattering airs,
And hate her ways, avoid her snares;
Keep clear from Sin of every kind,
And then you'll have true peace of Mind.
Visit the Library of Congress's American Memory website to see the original broadside.
Sources
"Boston, May 4." Boston Evening-Post, May 5, 1767, issue 1650, p. 2. Database: America's Historical Newspapers: Readex/Newsbank.
Boston Post-Boy, September 15, 1766, issue 474, p. 3. Database: America's Historical Newspapers: Readex/Newsbank.
"Extract of a Letter." Boston Evening-Post, April 27, 1767, issue 1649, p. 2. Database: America's Historical Newspapers: Readex/Newsbank.
A Few Lines on Magnus Mode, Richard Hodges & J. Newington Clark. [Boston, 1767]. Database: An American Time Capsule: Three Centuries of Broadsides and Other Ephemera: American Memory, Library of Congress.