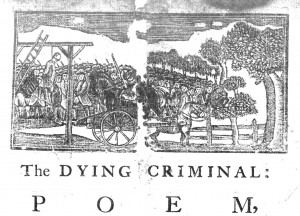 On March 10, 1772, Elizabeth Smith appeared before the Massachusetts Superior Court and for a second time was found guilty of theft. Her first conviction came almost a year ago, when she received 20 lashes as punishment for the same crime. This time, Smith was sentenced to sit on the gallows for one hour with a halter around her neck and to be whipped 20 times once again. Her conviction would have been unremarkable had it not been for another criminal, John Sennet, who received a similar sentence during that same court session.
Sennet was found guilty of bestiality for attempting to perform sodomy with a mare. The Boston Gazette reported that he committed the "Unnatural crime" on Saturday, August 31, 1771 on the "Boston Common in the Face of the Sun, in it's Meridian Lustre, and in the sight of several People." Not surprisingly, Sennet was reported as being drunk at the time. The newspaper article went on to say that he had a wife and children.
Sennet was sentenced to stand next to Smith at the gallows with a halter around his neck and to receive 39 lashes. But his sentence was mild when compared to the one handed down to the mare, who was immediately put to death by its owner after the event took place.
Smith's and Sennet's sentences were carried out on Wednesday, May 13, 1772, and the Boston News-Letter reported that the two were "severely pelted by the Populace." Their punishment was clearly an attempt to shame them and to hold their example up as a warning to others. But at least one person in the crowd did not get the message.
John Bryan, who also went by the name John Baker, meandered in front of the gallows while the spectacle was taking place selling handkerchiefs. People soon suspected that the goods he was peddling were stolen, because only the day before, Bryan was let out of jail after receiving a whipping for theft. When the authorities closed in on Bryan to arrest him, he pretended to faint. But the tactic did nothing to help his cause, because he was simply placed on a board and carried off to jail on the shoulders of several men.
After Smith and Sennet served their hour on the gallows and received their whippings, Smith, who lacked the funds to compensate the owners for the goods she had stolen, was sold into servitude.
One enterprising author and publisher took advantage of the attention generated by the mock hangings and printed in poetic form a dialogue between Smith and Sennet as they stood at the gallows. Judging by its content, the broadside was probably available for sale at the event, along with Bryan's stolen handkerchiefs.
A DIALOGUE
BETWEEN
ELIZABETH SMITH, and JOHN SENNET,
Who were convicted before his Majesty's Superior Court, Elizabeth Smith for Thievery, and John Sennet for Beastiality! and each sentenced to Set upon the Gallows for the space of one Hour, with a Rope round their Necks Elizabeth Smith to receive Twenty Stripes upon her naked Back, And John Sennet, Thirty-nine.
Smith. SEE here the knave expos'd to publick view,
And for his wickedness receives his due:
While all the crowd behold him with disdain,
And laugh to see him thus expos'd to shame.
Sennet. No doubt you thought your crimes would lie
Forgot and hidden from the partial eye;
But now you know that "Ropes and Lines can see
Crimes of a small, though not a large degree.
Sennet. Though Murd'rers pass with crimes of deeper hue,
Thieves and house-breakers always have their due.
Cushing* has eas'd the former from their fate,
But vengeance always does on Villains wait.
Smith. You know your fault is far more base than mine,
The most unnatural of any crime;
A deed of Beastiality you know
Is what exposes you to publick show.
The laws divine and human you have broke,
And took upon yourself a heavy yoke:
For know, O man! The Lord your maker faith,
He that lies with a Beast shall suffer death.
Sennet. O dare you lift your head to sensure me,
You know your crime is of the first degree;
Convicted twice of theft, you have your due,
If all the croud spare me to punish you.
A thief, the most detested of mankind,
How can you e'er a moment's comfort find?
Your guilt will follow you where e'er you go,
And turn your joy into most deadly woe.
Smith. You know, O Sennet, you deserve to die,
According to the laws of God most high:
You have expos'd your wife and children dear,
To sorrow, to disgrace, and black despair.
Sennet. You cease your talk, think on one scene that's past,
Behold your husband struggle out his last!
Frail wicked breath, when drove unto despair,
The Gallows eased him of all his care.
Both as one. Now both of us not only set a show,
But we must hugg the post that stands below;
Let therefore young and old be warn'd by us,
Lest when it is too [late, for crime's] a curse.
* A reference to William Cushing, who replaced his father, John Cushing, on the Massachusetts Supreme Judicial Court in 1771.
Note: The words in brackets in the last line are cut off in the extant copy and represent my best guess as to what they were.
Sources
"Boston, April 1, 1771." Boston Gazette, April 1, 1771, issue 834, p. 3. Database: America's Historical Newspapers, Readex/Newsbank.
"Boston, March 16." Boston Gazette, March 16, 1772, issue 884, p. 3. Database: America's Historical Newspapers, Readex/Newsbank.
"Boston, May 14." Boston News-Letter, May 14, 1772, issue 3480, p. 2. Database: America's Historical Newspapers, Readex/Newsbank.
"Boston, September 1." Boston Gazette, September 2, 1771, issue 856, p. 4. Database: America's Historical Newspapers, Readex/Newsbank.
A Dialogue between Elizabeth Smith, and John Sennet. [Boston, 1772?]. Database: America's Historical Imprints, Readex/Newsbank.