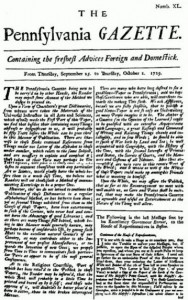 J. L. Bell, who writes the Boston 1775 blog, recently wrote a series of posts that breaks down the recent ruling by the Supreme Court on whether a life sentence for a seventeen-year-old convicted of two armed robberies–or for any juvenile offender who hasn't committed murder–constitutes "cruel and unusual punishment" under the Eighth Amendment to the U.S. Constitution.
Image via Wikipedia
In his dissenting opinion on the case, Clarence Thomas contends that the Court should look to sentencing practices at the time the Bill of Rights was adopted for guidance. He claims that since capital punishment could be imposed on people as young as seven years old under British common law in the 18th century, the punishment of the juvenile in question would almost certainly have been deemed acceptable back then and therefore should be deemed acceptable now. Justices Antonin Scalia and Samuel Alito both signed on to Thomas's dissent.
Bell then asks the obvious question: Did the British justice system of the 1700s actually execute young children?
Bell discovers that actual examples of such punishments are exceedingly rare. He finds one case in 1748 where a ten-year-old boy, William York, was accused of killing a five-year-old girl named Susan Mayhew. They both lived in the workhouse at Eyke in England. Even though York was convicted of the crime and was sentenced to execution, the judges kept ordering delays until he reached the age of eighteen or nineteen, when he received a royal pardon and was placed in the Royal Navy.
Bell finds a few cases where children were executed in America, but the details of these cases are certain to give even Justice Thomas some cause for pause.
Here are the links to the complete series in order: