The "Enemies of Souls" had clearly taken control of Jeremiah Meacham in March of 1715. Meacham visibly possessed a troubled conscience and walked around in deep reflection. He became paranoid. He believed that all of his neighbors looked oddly at him, and he feared that somebody somewhere was out to kill him. He woke up every day thinking that it would be his last, and he continually asked people "if they knew of no contrivance against him."
According to the minister Nathaniel Clap, Meacham's torment became so bad that the "Concerns of his Soul, mixed with some vexations about his Affairs in the World, brought him into a grievous hurry, which by degrees boil'd up into a sort of a raging fury."
Growing Trouble
Jeremiah Meacham was born in or near Salem, MA and lived in the Boston area until sometime in his early twenties when he moved to Newport, RI, where he married and had two children. He was intelligent and received a religious education in his youth. People used to remark on his ability to talk about religious matters, until he started to abandon religion altogether. After moving to Rhode Island, Meacham had fallen in with "some that were openly wicked (in Providence)." He stopped going to church and began to criticize the practices of Christianity.
Even though Meacham had forsaken his religious duties, he continued to be a responsible citizen. He followed through on his promises and was responsible in his business dealings. He maintained a "Moral Honesty" with his neighbors, although they all wished that he did not speak so freely to them about his radical religious and philosophical beliefs.
But without a clear guide for his soul, Meacham appeared to be losing his way. As Nathaniel Clap put it, "his troubles of mind grew so intolerable, that he told some, that he was weary of his Life." Following some advice that was given to him, Meacham tried to drink his troubles away with hard liquor, but the "troubles of his mind returned as the Spirits of the Drink removed."
On the Roof
On March 21, Meacham walked around town displaying greater distress and agony than ever before. The next morning, neighbors found him sitting on top of his house for several hours holding a penknife and in fear that anyone who walked by and talked with him would try to hurt him. Meacham shouted out that "he would hurt neither Man, Woman nor Child, if they would let him alone." Some people worried that he would end up hurting himself.
By midday, Meacham climbed down off the roof and into his chamber, where he stayed the rest of the afternoon. At sunset, he called his wife and her sister up to his room. The two tried to convince him to go downstairs with them to ensure that he would not harm himself. But in an instant, Meacham stabbed his wife in the neck with his penknife. He then grabbed an ax and struck both women with it several times until they were dead.
Meacham now turned away from the "miserably mangled Bodies" he left on the floor to stand guard at the doorway. Using the bloody ax, he knocked down and injured the head of Stephen Easson as he was coming up the stairs to find out what had happened. Others tried to get to him by breaking through the floor and through the roof of the chamber. When his pursuers used a candle to peer into the room, Meacham grabbed it from them and used it to set the room on fire. As the flames grew, the chamber became so hot that Meacham sprang headlong out the window. Once he hit the ground, he was immediately apprehended by the people who now had surrounded the burning house.
The neighbors noted that Meacham had tried to slit his throat with his penknife after lighting the fire. With his death not coming soon enough, and with the fire becoming too intolerable to withstand, he then tried to use the leap out the window to kill himself. But none of the wounds he incurred with these actions ended up being serious.
In Gibbets
At his trial on April 8, Meacham admitted to carrying out the two murders but pleaded that he was not himself and did not know what he was doing at the time. His neighbors doubted that Meacham was unaware of his actions, though, so he was quickly found guilty of murder.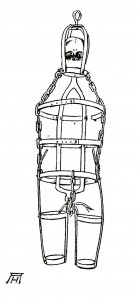 Meacham was executed on April 12, 1715 in front of several thousand spectators, and his body was hung in gibbets or, as it was also known, in chains. Gibbet-irons encased the bodies of executed criminals, so that their rotting corpses could be held up for display and serve as a warning to those who gazed upon them. The use of gibbets in the colonies was rare but not entirely unusual, but they were more often reserved for pirates.
Even though the forty-some-year old Meacham did not show any sign of finding religion throughout most of the time when he was held in prison, the Boston News-Letter reported, "The Night before his Execution and that Day, he gave greater and better Evidence of his Sense of his Sinfulness and Repentance for Sin, with his Submission to the Will of God."
Sources
Clap, Nathaniel. The Lord's Voice. Boston, 1715. Database: America's Historical Imprints, Readex/Newsbank.
—. Sinners Director to Hear. Boston: J. Allen for N. Boone, 1715. Database: America's Historical Imprints, Readex/Newsbank.
"Rhode Island, April 15." Boston News-Letter. Monday, April 11, issue 574, p. 2. Database: America's Historical Newspapers, Readex/Newsbank.
"Rhode Island, March 25." Boston News-Letter, Monday, March 21, issue 571, p. 2. Database: America's Historical Newspapers, Readex/Newsbank.
Sellin, Thorsten. "The Philadelphia Gibbet Iron." The Journal of Criminal Law, Criminology, and Police Science 46:1 (May-June 1955), 11-25.