Early American Criminals: Henry Tufts in the Castle
[ 16:20 ]
Play Now
|
Play in Popup
|
Download
(3251)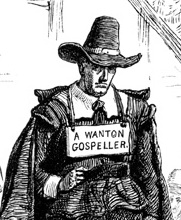 Note: This post follows "Henry Tufts's Partners in Crime."
While living in Massachusetts in 1793, Henry Tufts purchased a silver tablespoon and five teaspoons from John Stewart, who said he found them while clearing out a cellar. Tufts used the spoons until a neighbor recognized them as stolen and reported Tufts to the authorities.
When Tufts told the court how he had acquired the spoons, Stewart was brought in for questioning as well. But before Stewart could fully disclose how he had acquired the spoons, he ran out of the courtroom and escaped, possibly with the assistance of the sheriff, who apparently had it out for Tufts. Now that Tufts lacked a witness to back up his story, he was committed to the Salem jail to await trial by the Supreme Court.
Tufts's trial did not go well. The loss of Stewart as a witness hampered the spirited defense put up by Tufts's lawyers, and the jury found Tufts guilty of burglary, although one skeptical juror forced the jury to take several votes before joining the others. Judge Paine condemned Tufts to death by proclaiming that he "must be carried from thence to the place of execution, and there hanged by the neck until dead." Paine set the day of execution for Thursday, August 14, 1793, which gave Tufts six weeks to prepare for his final exit.
Death Row
While Tufts sat in prison in heavy chains to prevent his escape, the lone holdout juror began to have second thoughts about how he went along with the other jurors and switched his vote from not guilty to guilty. He went before the Governor and Council to express his regret and asked them to show Tufts mercy. In the meantime, Tufts petitioned the Governor to ask for a pardon in exchange for a lifetime prison sentence and urged other influential people to speak with the Governor on his behalf. But Tufts's efforts did not produce any results.
With less than two weeks to go before his execution, Tufts was visited by a physician, "who accosted me with an affability and good nature, not always to be expected from a stranger." After sweet-talking Tufts for some time, the doctor finally got to the point of his visit: he was interested in Tufts's skeleton and offered Tufts a couple guineas and other favors in exchange for his dead body. The proposal horrified Tufts, who sent the doctor away.
Yet another gentleman visited Tufts and offered him seventy dollars for a license to publish Tufts's life story. Tufts told the man that he was not in any condition to provide a full account of his life, but the man assured him that he knew enough about Tufts to piece together a fine narrative. Since Tufts had no use for money, he told the man that he would consider the offer and get back to him. After consulting with another friend, Tufts turned down the proposal and kept ownership over his life's story just in case he was able to earn a reprieve.
On the morning of his scheduled execution, Tufts felt chills run down his spine when he looked out the window and saw the sexton carrying tools to dig a grave beneath the gallows where Tufts was to be executed. A schoolmistress visited Tufts and added to his "unutterable consternation" when she told him that she had just seen the coffin that was to hold his dead body. Tufts then heard the gathering of a large numbers of spectators for his execution, and the sound of every footstep outside his jail cell made him shudder with the expectation that it could be the angel of death.
But by three o'clock in the afternoon, the warrant for Tufts's execution had yet to arrive. The deputy sheriffs continued to wait with Tufts until four o'clock, when it became clear that the warrant would not appear that day. The execution was postponed indefinitely, and the crowd of three thousand dispersed. Every night, Tufts went to bed wondering what was to become of him. He remained in this liminal state for a month, until an order finally arrived to transfer him to the Castle in the Boston Harbor where he was to be confined for life.
Great Theater
The episode of Tufts being falsely accused of stealing a set of spoons and his subsequent experience in prison makes for great theater, but critics have pointed out that it is yet another example of how Tufts's narrated account does not match the historical record. Leading up to the spoon episode, Tufts boasts in his narrative about the extensive cache of burglary tools he had amassed, although from that point on, he only reports times when he claims to have been falsely accused of burglary. But Tufts was indeed putting his burglary tools to good use. Throughout this period Tufts was breaking into shops and houses and was accused several times of passing counterfeit coins. In fact, even though Tufts denied ever stealing the spoons in court, he faced multiple counts of thefts and burglaries, and dozens of witnesses showed up to testify against him.
The jury that supposedly deliberated his case for so long in actuality delivered a swift guilty verdict, and the attorney general recommended the death penalty without hesitation. Even though burglary was technically a capital crime in Massachusetts in 1793, it was only reserved for repeat offenders who were clearly beyond reformation. So Tufts was not sentenced to death simply for stealing a set of silver spoons, he was sentenced to execution for continually breaking into shops and houses over the past twenty years.
And finally, Tufts could not possibly have witnessed the preparations for his execution, nor heard the throngs of people who showed up for it, because he received a reprieve from the Governor and the Council a full month before his execution was to take place. He clearly made up this entire episode for dramatic effect.
The Castle in Boston Harbor
After receiving his reprieve, Tufts was committed to the Castle in Boston Harbor, and he describes in detail his new setting:
The castle, so called, is a fortress of some strength and commands the entrance into the harbor's mouth. About thirty pieces of artillery were then mounted on its battlements, the whole being occupied by a company of soldiers, stationed there, to superintend the works and guard the criminals. At the time of my arrival, fifty or more persons, of that description, were under confinement, and doomed to hard service. They were a motley crew, consisting of different kinds of people, as well black as white, as of divers nations and languages; to wit, some French, English, Dutch, Spanish, Irish and American convicts; the latter, however, were the more numerous order. On further acquaintance, I found them a heterogeneous mixture of as vile miscreants and execrable wretches, as human conception could have framed ideas of; there had been no impropriety in pronouncing them the mere dregs of human nature; the refuse and offscouring of the whole globe.
The convicts were mainly employed in making nails, and at the slightest appearance of idleness or insubordination, the soldiers would "beat them like dogs." When they weren't making nails, the convicts engaged in "every species of villainy, which they could possibly perpetrate with impunity, such as cursing, swearing, cheating, lying, quarrelling and stealing from one another."
Life was hard at the Castle. At the end of the workday, Tufts slept on the prison floor with just a tattered rug or blanket for warmth. The coarse bread and tainted "bullock's heads" served to him evoked such nausea that it was difficult for him to swallow enough of the food to sustain him. When Tufts broke his arm, no doctor attended him, so he had to let it heal on his own. And the frost and snow on his bare feet in winter caused his skin and nails to drop off.
As the summer of 1794 rolled around, Tufts heard preparations for the Fourth of July, but since prisoners were denied participating in this celebration of American freedom, the holiday only heightened awareness of his confinement. Tufts realized that he had yet to try escaping from the island. By this time, Tufts had earned the trust of one of the officers, who gave him full license to move around the twenty-acre island. Tufts casually wandered to the edge of the isle, covered his head with some tufts of tall grass, and went out into the ocean in an attempt to swim to freedom. Unfortunately, a soldier spotted him from the watch tower, and Tufts's escape attempt ended in failure when a group of soldiers pulled Tufts out of the water and onto their boat in a state as "sleek as a half drowned rat, and shivering with the cold."
Tufts's confinement at the Castle continued until 1798, when a transfer of ownership over the island from the Commonwealth of Massachusetts to the U.S. Government necessitated the removal of the convicts. Tufts was put in the Salem jail, and it was not long before he discovered a fault in the wall of his cell and escaped.
Retirement
Tufts returned to his hometown of Lee, NH only to discover that his family had moved to Maine. But Tufts tracked them down and resolved never to steal again, a vow he claims in his narrative to have followed ever since.
While in retirement from his criminal life, Tufts learned that his old associate, James Dennis, with whom he had broken into Mr. Pickard's shop, had died. Dennis had been picked up for house breaking, and while the sheriff and keepers were escorting him to prison, Dennis attempted an escape. He jumped into a raging river, but the manacles around his wrists prevented him from swimming, and he drowned.
At the end of his narrative, Tufts thanks those who treated him well at the Castle, forgives those who did not treat him well, and expresses hope that those he wronged will forgive him. But he not so convincingly ends his book, "Heaven grant, I may do no more wickedly."
Sources
Tufts, Henry. A Narrative of the Life, Adventures, Travels, and Sufferings of Henry Tufts. Dover, NH: Samuel Bragg, 1807. Database: America's Historical Newspapers, Readex/Newsbank.
Williams, Daniel E. "Doctor, Preacher, Soldier, Thief: A New World of Possibilities in the Rogue Narrative of Henry Tufts." Early American Literature 19.1 (Spring, 1984): 3-20.