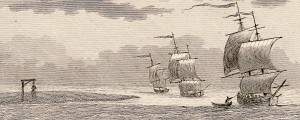 Note: This post is part of a series on Convict Transportation to the American colonies.
On a winter's day in 1723, James Bell, a tailor of age 20 with a dark complexion, wandered the narrow London streets not far from where the notoriously rank Fleet Ditch emptied out into the River Thames. He paused in front of a bookstall in White Fryers Gate Way and picked up a book entitled Origenis contra Celsum, a defense of Christianity by a 3rd-century theologian. Bell was either a voracious reader eager to get his hands on his next book, or, more likely, in need of money, because he suddenly began to run off with the book without paying. Sensing that he was being pursued he quickly hid, but he was soon discovered, along with the pilfered book, holed up in a dog kennel. At his trial on January 16, 1723, Bell denied ever having been at the stall or in the dog kennel, but the jury did not believe him. He was found guilty of grand larceny and sentenced to transportation to the American colonies for 7 years.
One month later on February 18, 1723, Bell and 35 other convicted felons were paraded through the London streets from Newgate Prison to a former slave ship, the Jonathan, which set sail for America the following day. With this voyage, Bell joined over 50,000 convicted felons who were uprooted from their families and friends in Great Britain and forced to travel overseas to begin new lives as indentured servants in the American colonies between 1718 and 1776. These convicts accounted for one quarter of all British immigrants who came to what would become the United States during this period. They constituted the next largest group of people ever to be forced to immigrate to America, second only to African slaves.
Image via Wikipedia
What is the real story behind the transportation of 50,000 British convicts to the American colonies before the American Revolution? Why would someone in England risk committing a crime knowing that he or she could be forcibly transplanted to a foreign land if caught? And what happened to these convicts once they arrived in America? Did they prosper under conditions of unlimited opportunity, as was famously claimed in Daniel Defoe's Moll Flanders, or were they ostracized by American colonists and doomed to failure? Future posts over the next several weeks will explore British convict transportation to America through the lives of the various people who were involved with it: the government officials who developed this new form of institutionalized punishment, the merchants who amassed fortunes transporting convicts across the Atlantic, the plantation owners in America who put the convicts to work after they arrived, and, of course, the criminals who suddenly found themselves bound on a ship heading towards a new land and new way of life.
Resources for this article:
Defoe, Daniel. The Fortunes and Misfortunes of the Famous Moll Flanders, & C.. London: W. Chetwood and T. Edling, 1722.
Ekirch, A. Roger. Bound for America: The Transportation of British Convicts to the Colonies, 1718-1775. New York: Oxford University Press, 1987.
—. "The Transportation of Scottish Criminals to America During the Eighteenth Century." The Journal of British Studies 24.3 (1985): 366-74.
Old Bailey Proceedings Online (www.oldbaileyonline.org, 7 April 2008), 16 January 1723, trial of James Bell (t17230116-9).
Learn More About Convict Transportation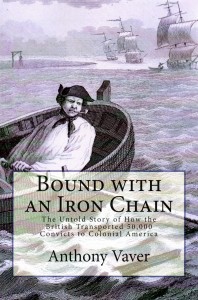 Learn more about convict transportation to colonial America by reading my book, Bound with an Iron Chain: The Untold Story of How the British Transported 50,000 Convicts to Colonial America.
Amazon.com: Paperback ($16.99) and Kindle ($4.99).
Smashwords: All e-book formats ($4.99).
Most people know that England shipped thousands of convicts to Australia, but few are aware that colonial America was the original destination for Britain's unwanted criminals. In the 18th century, thousands of British convicts were separated from their families, chained together in the hold of a ship, and carried off to America, sometimes for the theft of a mere handkerchief.
What happened to these convicts once they arrived in America? Did they prosper in an environment of unlimited opportunity, or were they ostracized by the other colonists? Anthony Vaver tells the stories of the petty thieves and professional criminals who were punished by being sent across the ocean to work on plantations. In bringing to life this forgotten chapter in American history, he challenges the way we think about immigration to early America.
The book also includes an appendix with helpful tips for researching individual convicts who were transported to America.
Visit Pickpocket Publishing for more details.